13-10-2021
[EN] The price of green coffee reaches an all time high!
At this moment, the price of green coffee beans is over 85% higher than a year ago. Many coffee companies are forced to increase their prices, but why exactly does this happen? In this blog, we hope to provide more clarity.
Failed harvest

First of all, the main reason of the increased coffee prices is the failure of the coffee harvest due to drought in Brazil and torrential rain in Vietnam. Both are responsible for over 40% of the coffee production worldwide. Due to these circumstances, the last harvest produced a 30% lower yield than previous years. There are also some issues with the supply of green coffee from Colombia, due to heavy downpours and anti-government protests.
Problems in the transport sector

The problems in the transport sector are also a major factor in the price increase. The transport of coffee from South America to Europe has become a lot more expensive because the prices of shipping containers are up to 10 times higher than the year before, which in turn is a consequence of the worldwide COVID lockdowns.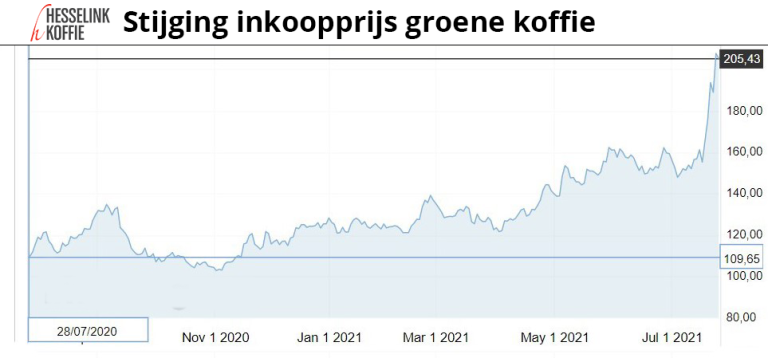 Necessity
Hesselink Koffie is also impacted by these problems. In order to maintain responsible and healthy business operations, where there is room for innovation and developments in the area of sustainability and quality, we are forced to carry out a general price indexation of our coffee products.